IMPORTANT UPDATE:
The Data Architecture Summit has been canceled. Learn More
Venue & Travel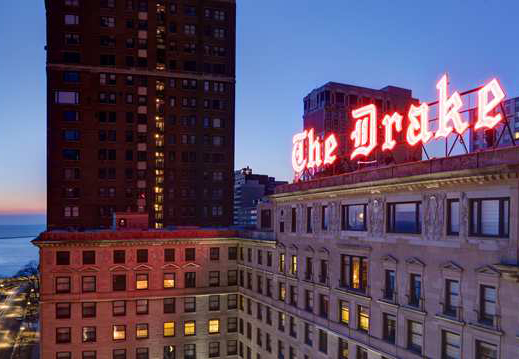 Conference Venue and Hotel
The Drake Hotel
140 East Walton Place
Chicago, Illinois 60611
Block room rate is $259 per night.
This room rate expires at 5 pm (Central Time) on September 28, 2020.
Book Online
---
Reservations
To book your room(s) at The Drake Hotel online, click here. You do not need to enter a group code as the form will pre-populate.
To make your reservations by phone, call the reservation desk at 1-800-55-DRAKE – code DATA group rate. Subject to availability.
If you have any difficulty booking a room at The Drake Hotel, please call us at +1-310-337-2616 x1 or email us, and we will do our best to help.
---
Internet
Attendees booked at The Drake Hotel under the Data Architecture Summit room block will have access to free internet in their sleeping rooms.
Parking
Overnight Valet Parking is $75 (24 hours, unlimited in and out).
Overnight Self Parking is $53 – Park at 900 North Michigan Building and get validation from the front desk (up until 2PM the day of check-out).
---
Airport/Ground Transportation
O'Hare International Airport

ORD Travel distance: 14 miles

Driving directions: Take I-90/94 East, Exit Ohio Street, Make left onto Michigan Ave, Proceed to Delaware make a right, Proceed to Mies Van Der Roe make a left on Walton to Drake Hotel.

Bus service: Continental Air Transport

Super Shuttle: $30.00 USD (one way)

Estimated taxi fare: $42.00 USD (one way)

Subway/Rail fare: $2.25 USD (one way)

Midway Airport - MDW

Travel distance: 17 miles

Driving directions: Take Cicero Avenue to I-55 (To Chicago), Exit at Ohio Street. Follow Ohio Street eastbound and turn left onto Michigan Avenue. Turn right at Delaware Street, proceed to Mies Van Der Roe, make a left on Walton to Drake Hotel.

Bus service: Shuttle Super Shuttle: $13.00 USD (one way)

Estimated taxi fare: $22.00 USD (one way)

Subway/Rail fare: $2.25 USD (one way)

Other Transportation

Driving Directions:
Click here